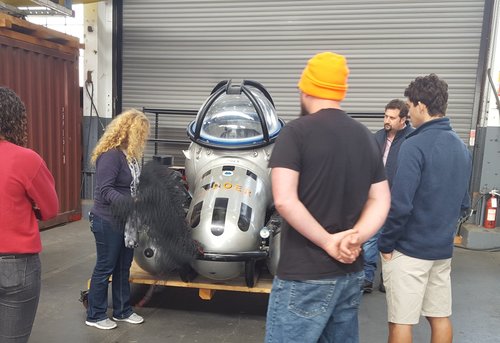 DOER was founded in 1992 by Dr. Sylvia Earle as Deep Ocean Exploration and Research, a marine consulting firm. In 1995 Earle became Explorer in Residence at the National Geographic Society and later established her own non profit foundation Mission Blue DOER president, Liz Taylor along with subsea specialist Ian Griffith, expanded the firm's scope and capabilities to include ROV and submersible support services leading to the demand for full engineering and operations capacity. Tony Lawson, with his extensive experience with underwater systems, joined the company as Director of Engineering.

In 2003, DOER moved into a 55,000 sq. ft. facility in the historic Alameda Marina where it continues to grow with a full team of innovators, engineers, field operations supervisors, project management staff, technicians, and key advisers. In 2010, DOER appointed Ocean Innovations to assist with sales and support for ancillary equipment. This strategic alliance has further enhanced DOER's abilities to address client needs from basic consulting to full analysis and implementation of solutions for even the most challenging underwater tasks.
Blue Endeavors has been pleased to expose our students to both DOER Marine and Sylvia Earle's nonprofit, Mission Blue.
Led by legendary oceanographer Dr. Sylvia Earle, Mission Blue is uniting a global coalition to inspire an upwelling of public awareness, access and support for a worldwide network of marine protected areas – Hope Spots. Under Dr. Earle's leadership, the Mission Blue team implements communications campaigns that elevate Hope Spots to the world stage through documentaries, social media, traditional media and innovative tools like Google Earth. Mission Blue also embarks on regular oceanic expeditions that shed light on these vital ecosystems and build support for their protection. Currently, the Mission Blue alliance includes more than 200 respected ocean conservation groups and like-minded organizations, from large multinational companies to individual scientific teams doing important research. Additionally, Mission Blue supports the work of conservation NGOs around the world that share the mission of building public support for ocean protection. With the concerted effort and passion of people and organizations around the world, Hope Spots can become a reality and form a global network of marine protected areas large enough to restore the ocean, the blue heart of the planet.
For nearly 30 years, Conservation International (CI) has been protecting nature for the benefit of all.
We know that human beings are totally dependent on nature — and that by saving nature, we're saving ourselves. To that end, CI is helping to build a healthier, more prosperous and more productive planet.
We do this through science, policy, and partnerships with countries, communities and companies. We employ more than 1,000 people and work with more than 2,000 partners in 30 countries. Over the years, CI has helped support 1,200 protected areas and interventions across 77 countries, safeguarding more than 601 million hectares of land, marine and coastal areas.